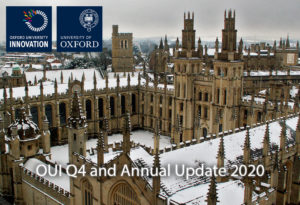 20th January 2021
An update from Oxford after a quarter that saw a global vaccine for the world and record stats from our innovation cluster.
A new year, a new hope
To say 2020 has been a rocky year is an understatement to say the least. Yet, with the introduction of Oxford AstraZeneca vaccine, we now have a vaccine for the whole world and light at the end of the tunnel.
For OUI, it has been a year of dizzying highs and crushing lows. It is, however, a testament to the commitment and passion of our staff to overcome the trials of the pandemic and the loss of our friend and colleague, Dr Jamie Ferguson, to go on to deliver one of the strongest years to date.
Below, we report another record breaking year in terms of company creation, bolstered by our thriving startup incubator, our social enterprise programme, and the Student Enterprise Programme bearing its initial fruit. We can also confirm that our community has collectively raised over £1bn in external investment for the calendar year. Meanwhile, Consulting Services has recorded its biggest quarter on its books – supporting our colleagues in the University to bring Oxford expertise to the outside world at unprecedented levels.
We are optimistic for the year ahead, and look forward to supporting the University and our companies as we collectively help get the UK back on track post-pandemic.
"The Oxford AstraZeneca vaccine is now rolling out across the UK and around the world. The combined effort across the University this year to make this a reality has been nothing short of extraordinary, and amply demonstrates Oxford's considerable potential to create positive impact globally."
Matt Perkins, January 2021
Oxford University companies raised £255.2m during Q4 of 2020 over 31 deals. 
OUI launched seven companies during Q4, including five spinouts and two social ventures. The 250th OUI-supported venture was amongst them. They raised a total of £2.2m in seed funding.
Over Q4, Licencing & Ventures signed 57 deals, filed 27 new patents and received 81 new disclosures from Oxford University academics. 
Requests for support with consultancy was exceptionally high in Q4 2020.
The team saw 248 separate enquiries (up 16%) signed 133 contracts, and enabled 126 researchers to provide expertise to 103  organisations.
We anticipate that the strong demand for consulting expertise and technical services, particularly in the medical sciences, will continue to be driven, at least in part, by Oxford's successful Covid vaccine initiative.
Oxford University Innovation supported the creation of 28 new companies in 2020.
Of these, four were startups from the incubator, seven were social ventures (some of which were also counted as spinouts), and 20 were spinouts. Two were founded expressly to address the pandemic, and we welcomed our first graduate from StEP.
Overall, our companies raised £1.07bn in external fundraising, plus an additional £20.3m at seed stage.
Social Ventures Ten
---
News
Oxford Immunotec Exit
TB Diagnostics firm Oxford Immunotec sells to PerkinElmer for $591m in a big exit for the ecosystem.
Rapid Covid test firm Oxsed acquired
Oxsed, a social enterprise developing rapid COVID-19 tests, has been acquired in record time for an Oxford social venture.
$45m for DMD firm PepGen at Series A
PepGen, an OUI-supported venture developing treatments for Duchenne Muscular Dystrophy, has secured $45m in its Series A.
Patients with DMD lack the protein dystrophin, which supports muscle integrity. PepGen's cell-penetrating peptide tech could help restore dystrophin expressing in DMD-affected tissue.
RA Capital led the round, which saw participation from Oxford Sciences Innovation, Oxford University and CareDuchenne.
Theolytics secures $6.8m for cancer killing viruses
Theolytics, an Oxford-based biotech specialising in cancer-killing viruses, has raised $6.8m in its Series A.
Theolytics' technology can hijack a virus and reprogramme it to identify and target cancer cells. As the virus propagates through the body, it continues to target cancer cells, destroying tumours as it goes.
Epidarex Capital, a fund backed by a number of UK universities, led on the round with Taiho Ventures. OSI also participated in the round. 
Proxisense takes on fake vaccines
Proxisense, an OUI-supported venture previously focused on sensors in aerospace and energy, is turning its attention to fake drugs and vaccines.
Using its sensor technology, the company believes it can make a major dent in the fight against fake drugs – a particularly hot topic as the COVID-19 vaccines get rolled out.
Competing products cannot authenticate  vaccines due to variance in their sensor tech. Proxisense will offer a more precise product.
Oxbotica drives on to $47m Series B
Autonomous driving company Oxbotica will use the cash to develop its universal autonomy platform in a round led by BP Ventures.
Seven OUI-supported companies joined the Oxford University community this quarter. They are:
GTT Analytics – a spinout developing international trade and transport simulators using maths models and machine learning. The spinout has come about with support from the Maths department, although is not directly associated with any individual academic.
Quantum Dice – the first graduate of the Student Entrepreneurship Programme, Quantum Dice is a spinout using quantum mechanics to generate truly random numbers. It is thought the technology will be essential for cybersecurity in the coming quantum age.
Singular Bio – the first spinout from the Nuffield Department of Women's & Reproductive Health, this cancer-fighting spinout is based on the work of Professors Ahmed Ahmed, Enzo Cerundolo and Enda McVeigh.
Skylark Works – A social venture, Skylark is harnessing connections and promoting collaborations to deliver practical projects for social impact. It has been formed in conjunction with the University's Career Service.
Global Campus – Another social venture, GC supports sustainable, integrated and interuniversity learning opportunities, reinvesting profits in scholarships for students and/or building capacity in local heritage structures. It emerged from the School of Anthropology and Museum Ethnography.
LitHits – founded by Prof Kirsten Shepherd-Barr in the English Department, LitHits is a novel platform for engaging with literature – delivering short bursts to their mobile devices via the LitHits app. It's also a landmark for OUI, as it is our 250th company.
Aistetic – a spinout from Computer Sciences, Aistetic focuses on the manufacture of customised shorts using computer vision technology on mobile devices. It is based on the work of Prof Philip Torr.
Events
– The Oxford Innovation Society will soon return with a virtual offering and will be focused on the theme of COVID-19. More details will be available shortly.
– The Oxford Said Entrepreneurship Forum is running a pitching competition for staff, students and alumni with £10,000 on the line. Deadline is today (20th Jan) so move fast! https://oxfordsaid.eu.qualtrics.com/jfe/form/SV_6gLEBww1anU2Awl
– The Oxford Martin School will host Lord (Martin) Rees of Ludlow and Professor Sir Charles Godfray to discuss "Thinking again about the future and prospects for humanity" on Thursday 28th January, 5pm – 6pm GMT. To register and watch live: https://www.crowdcast.io/e/future-and-prospects-for-humanity
– Lord Rees is one of many talks upcoming from the Oxford Martin School on the theme of Building back better – lessons and opportunities from the COVID-19 pandemic. More details on the series are here:
https://www.oxfordmartin.ox.ac.uk/event-series/building-back-better/
Jobs
– OUI is looking for two Licensing and Ventures Managers in Life Sciences. Want to make an impact turning world-leading research into world-changing reality? Discover more here.
– Find more jobs at our companies here.
Social
You can follow OUI for more news coming out of the Oxford Cluster by joining our communities on Twitter and LinkedIn.
Press release sign up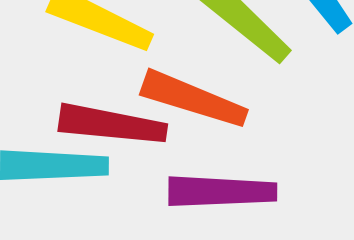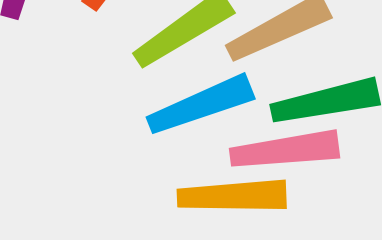 © Oxford University Innovation